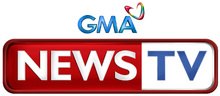 GMA News TV (also known as News TV simply as GNTV, formerly Citynet Television also known as Citynet 27, QTV: Quality TeleVision simply as Q). is a television network in the Philippines. Owner by GMA Network, Inc. thru Citynet Network Marketing and Productions, Inc.. The network primarily aired lifestyle programs and dramasparticularly aimed toward women. Its flagship station was DZOE-TV, which GMA ran as part of a lease with its owner, ZOE Broadcasting Network. GNTV's content, ranging from local news and public affairs programs, local entertainment, talk shows, cooking shows, reality and drama, producer by foreign for U.S., U.K. and Australia drama, comedy, lifestyle, cooking and reality TV series, filipino movie film, english movie blockbuster, sports programs such as basketball, football, volleyball, boxing, MMA, wrestling and other.
The network debuted on February 28, 2011 as a replacement for its former national network "Q"— such as GMA News TV. It is broadcast by all television service providers and terrestrial stations which formerly carried Q. Its studios are located at the GMA Network Center, EDSA corner Timog Avenue, Diliman, Quezon City while transmitter is located at Barangay Culiat, Tandang Sora, Quezon City.
As Citynet Television/Citynet 27 (1995-1999)
Edit
Citynet 27 signed on for the first time on August 27, 1998, under the on-air brand Citynet Television 27 (or just Citynet 27). The station was programmed like an independent station—GMA intended Citynet 27 to be its main outlet for imported programming (particularly from the United States), freeing up slots in GMA Network's schedule for more domestic productions.[1] Aside from an English dub of the Hispanic telenovela Ka Ina, the only locally-produced program on the station was Citynet Television News, a flagship TV news show produced by GMA News and Public Affairs.
As EMC/Channel V Philippines and CityTV (1999-2005)
Edit
However, by 1999, the costs of operating the station in this format were becoming too high for GMA. As a result, DWDB was turned into a music channel under the interim branding EMC, the Entertainment Music Channel—which was also the country's first locally operated music channel. A few months later, GMA reached a deal with Asian broadcaster STAR TV to allow DWDB to be a carrier of Channel V Philippines, which took effect December 19, 1999. GMA had already aired selected Channel V programming from its international version (which made the former VJ's and Filipino descented Trey Farley and Joey Meadfamiliar to viewers of DWDB). This conflict of interest, along with the increasing competition from the MTV affiliated network, led to the channel signing-off by July 25, 2001 and replacing into as CityTV on July 26, 2001.
As QTV: Quality TeleVision and Q (2005-2011)
Edit
Q launched on November 11, 2005 as QTV, standing for "Quality Television". Its flagship stations in Metro Manila were DZOE-TV—which GMA leased as part of a partnership with the religious broadcaster ZOE Broadcasting Network (gaining control of the station in exchange for providing equipment for ZOE, and allowing airtime for ZOE-produced programming on QTV), with the GMA-owned DWDB-TV serving as a UHF translator (GMA had previously operated as the independent station Citynet 27 and CityTV before it went silent in the middle of 2001). The new network would feature a lineup predominantly aimed towards women, with a mixture of domestic and imported lifestyle programs and dramatic series.[1] On March 18, 2007, QTV introduced a new logo, branding the network simply as "Q".
As GMA News TV (2011-present)
Edit
On February 7, 2011, GMA Network announced that it would replace Q with the news, young adult and lifestyle-oriented channel GMA News TV. Q programming ended on February 20, 2011; the network continued to air teasers for the impending re-launch from February 21–25, and signed off completely on the formal re-launch as GMA News TV on February 28, 2011.
Programming
Edit
Main article: List of programs broadcast by GMA News TV
Most of GMA News TV's programming consists of local news and public affairs programs including local entertainment, talk shows, lifestyle, cooking shows, travel and drama producer by foreign such as Australian Network Ten, Nine Network, U.S. CBS, NBC, ABC, ABC Family, Fox, TNT, The CW, History, ESPN, MTV, USA Network and U.K. BBC and Sky 1 drama, comedy, lifestyle, cooking and reality series, filipino movie film, english movie blockbuster, sports programs such as basketball, football, volleyball, boxing, MMA, wrestling and other carried over from Q.
As part of its agreement to operate DZOE-TV is owner by ZOE and DWDB-TV is owner by GMA Network thru Citynet as a carrier of GMA News TV (dating back to the establishment of Q), it also airs religious programming produced by ZOE during off-peak hours.
Affiliates
Edit
Further information: List of GMA News TV stations
GMA Network
Citynet Network Marketing and Productions
GMA Artist Center
GMA Entertainment TV Group
GMA News and Public Affairs
GMA Sports
ZOE Broadcasting Network