This page looks very outdated! This page needs to be updated!


---

Please update this article
DZCE-TV
(commonly known as
GEM TV
, short for
Global Expansion Media Television and GEM HD for ISDB-T
) is the
UHF
television station
of
Christian Era Broadcasting Service (CEBS)
, a broadcast ministry of the independent Philippine Christian church
[1]
the
Iglesia ni Cristo
, and
Eagle Broadcasting Corporation
. GEM is also a term used for the Iglesia ni Cristo's "Grand Evangelical Missions." This station studios are located at Redeemer Street, Milton Hills Subdivision,
Quezon City
. GEM TV 49 shares transmission facilities with sister station
NET 25
.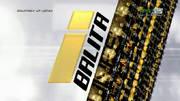 Digital Television
Edit
GEMNET embarked on its digital TV project in preparation for the Philippine's adoption of a digital system, in line with the network's silver anniversary this 2010.[2] GEMNET secured a digital TV trial permit from the NTC in early 2007 and conducted its trial broadcast using DVB-T from June to September 2007. The objective of the test is to validate the earlier studies on digital TV done by the organization's Digital TV Project Group. In 2nd half of 2007, Japan conducted a seminar and demonstration on ISDB-T. A side-by-side actual demonstration of DVB-T and ISDB-T was later conducted by TWG-2. The results of this demonstration prompted us to also conduct our own ISDB-T test, which started in January 2008.
With its partnership with the Japanese government through the Ministry of Internal Affairs and Communications (MIC), Digital Broadcasting Experts Group (DiBEG) and the Association of Radio Industries and Businesses (ARIB) in Japan, GEMNET is the very first television network in the Philippines to test the ISDB-T standard, the terrestrial digital TV system widely used in Japan and Brazil.
It has developed a strong partnership with NET 25, the television station of Eagle Broadcasting Corporation in the digital transmission of the network's HD content. GEMNET is ready for HD with the purchase of HD equipment and cameras -Panasonic HVX200, HPX500 and HPX3000, and Sony EX series to name a few. This marks the first terrestrial high definition channel of the Philippines, namely GEM HD.
Programming
Edit
GEM TV 49 shows religious programs of the Iglesia Ni Cristo, such as "The Iglesia Ni Cristo and the Bible", "The Message", "Ang Pagbubunyag", Ang Tamang Daan and Ang Mga Nagsialis sa Samahang Ang Dating Daan. The last program rebukes and debates claims made towards the Iglesia ni Cristo by UNTV 37 TV programs Ang Dating Daan and Itanong Mo Kay Soriano hosted by Bro. Eli Soriano. Eli Soriano is the leader of the religious group Members Church of God International. The channel also features shows from DW-TV Germany.